Mixer-Settlers are continuously operated reactors for liquid/liquid separation. They consist of a continuously operated mixing zone and a settling zone. Both zones are separated by a weir to prevent backmixing.
The mixing process and the settling process can, as far as possible, be defined and optimised independently of each other. The mixing process and the agitator required for it, the agitator speed and the sensors for process monitoring are selected according to the process boundary conditions and the mixing task.
The settling process in the settler area, on the other hand, requires a certain residence time on the part of the medium, which can essentially be influenced by the volume of the settler area.
THALETEC develops and manufactures the Mixer-Settler on a production scale for highly corrosive applications in glass-lined steel. Normally, glass lining takes place using electrically conductive glass lining Condusist (Flyer K098) in order to prevent the risk of electrical discharges in usually polar media.
A Mixer-Settler with a diameter of 600 mm was manufactured for a customer in Switzerland. A 3D-printed and glass-lined THALETEC SGT turbine (Flyer K084) was used as the stirring system. The SGT turbine is based on a design known in technical literature as the 'Smith turbine'. This agitator has a high power input and shear effect, which significantly improves the mixing of liquids which are difficult to mix.
The SGT turbine, with a diameter of only 230 mm, was produced with a detachable shaft/hub connection according to the CryoTec principle. A cylindrical interference fit is used to ensure that the agitator is securely seated on the agitator shaft.
All media-contact components are also electrically conductive. All flanges and nozzles were therefore sealed with the conductive THALETEC ConduSeal flange gaskets (Flyer K100) and the gaskets were earthed accordingly.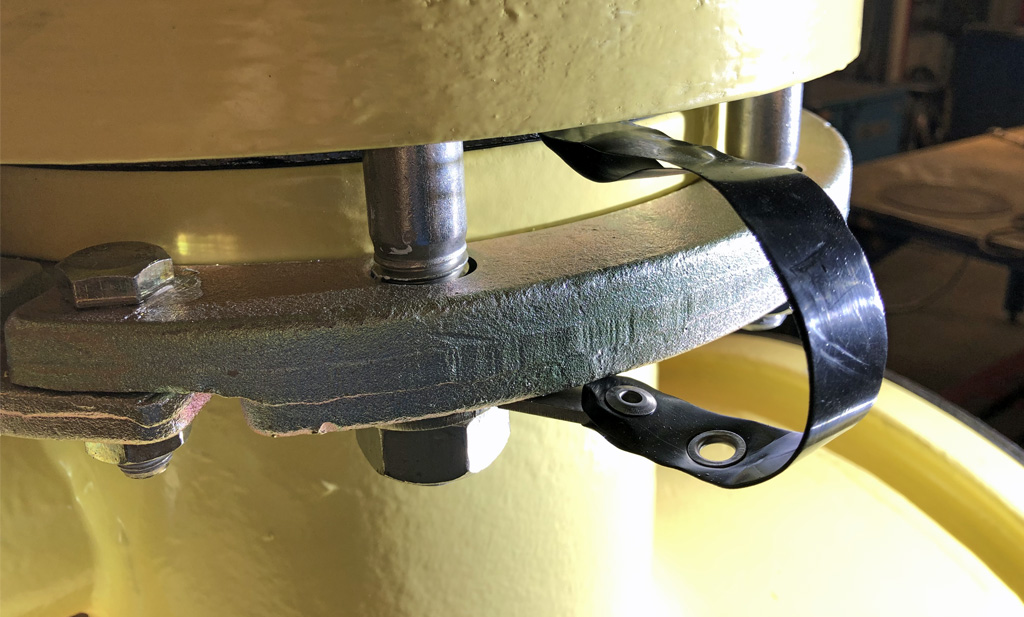 Earthing of THALETEC ConduSeal flange gaskets
The Mixer-Settlers developed by THALETEC are built according to the requirements and wishes of our customers. The design, number and position of the nozzles, the size ratios and the stirring technology used are therefore always determined individually. Please talk to us if you need the chemically highly-resistant glass-lined Mixer-Settler. We will be happy to advise you. Contact: process(at)thaletec.com.